NVCH, SVCH Perchwater Queen Of Rain

"TIMJA"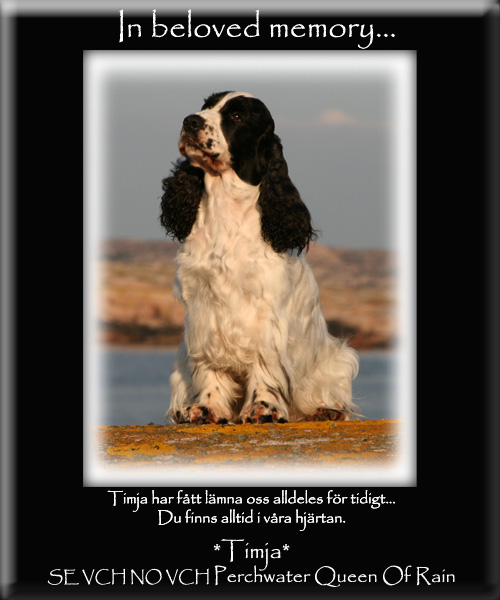 The Rainbow Bridge

There is a bridge connecting Heaven and Earth.
It is called the Rainbow Bridge because of it's many colors. Just this side
of the Rainbow Bridge, there is a land of meadows, hills, and valleys with
lush green grass.
When a beloved pet dies, the pet goes to this place. There is always food
and water and warm spring weather. The old and frail animals are young
again. Those who are maimed are made whole again. They play all day with
each other.
There is only one thing missing. They are not with their special person
who loved them on Earth. So, each day they run and play, until the day comes
when one suddenly stops playing and looks up!
The nose twitches! The ears are up! The eyes are staring! And this one
suddenly runs from the group!
You have been seen, and when you and your special friend meet, you take
him or her in your arms and embrace. Your face is kissed again and again and
again, and you look once more into the eyes of your trusting pet.
Then you cross the Rainbow Bridge together, never again to be separated.


NVCH, SVCH Perchwater Queen Of Rain (TIMJA)
e. Stocdale American Prayer u. Brovinnare-02, SU(u)CH, SVCH,LP1 Marimia´s Rain-Drop
Timja har A-höfter och är ögonlyst u.a.
Timja är den valp som jag har behållit ur Pricken´s första kull. Hon är född den 6 maj 2001 på vår egen kennel, -Kennel Perchwater. Timja är en sprallig liten tjej med superhärligt temperament. Hon är med på allt bus som mamma Pricken hittar på och hon tar också sina egna strövtåg emellanåt. Viltspår är något som Timja älskar och hon är ju även dubbelchampion i det! Utställning är också något som Timja älskar, hon riktigt showar i ringen med sitt härliga steg! Timja är mattes ögonsten men är för det mesta tyvärr ur päls så hon är inte utställd så mycket...

Timja har blivit BIS-4, BIG-3, BIR x2 & BIM på valputställning!

20/5 -03 Timja fick idag sitt tredje 1:a pris i ökl. viltspår, vilket också innebär att hon blev Svensk Viltspårschampion idag!

Timja kom 7:a på listan Årets Viltspårcocker 2002! (mamma Pricken kom 4:a och syster Pärlan blev vinnare!!)

5/9 -04 Timja blev NorskViltspårchampion i Hönefoss!!! Hon fick 1:a pris med HP och blev 2:a provbäst!

Timja har CK & Bästa Tik placering på utställning!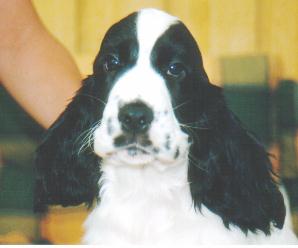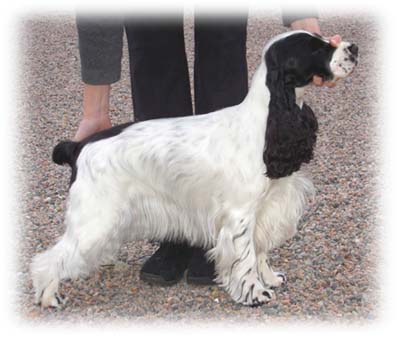 Timja 3 år

STAMTAVLA
HARRIS OF LYNWATER

LYNWATER LEWIS OF QUASAR

KATHAND ROWENA

LYNWATER MAYFLAY

LYNWATER FINAL SECRET

LYNWATER DRAGONFLY

LARA DE CAMPOLLANO

STOCDALE ABSOLUTELY ALBE

PANDAKAN OBA OBA

TROCADERO´S MISTY BLUES

CHART TOPPER AT CLASSICWAY

TROCADERO´S JUANITA

SU(u)CH SVCH LP MARIMIA`S RAIN-DROP

WESTERNER BLESS THE LIGHT

NIGHTMIST TOUCH OF LUCK

LYNWATER FOREST FLOWER

LINE SAM LUCILLE BALL

GREENTREE DONT THINK TWICE

LINE SAM GLEAM N´ GLORY

MARIMIA´S MAYFLOWER

NORDUCH WESTERNER FOREST BLAZE

WESTSTAR FLASH POINT

LYNWATER FOREST FLOWER

MARIMIA´S I AM WHAT I AM

LYNWATER STORM WIND

NUCH TRAVIS SNOW DROP